Shopping Cart
Your Cart is Empty
There was an error with PayPal
Click here to try again
Thank you for your business!
You should be receiving an order confirmation from Paypal shortly.
Exit Shopping Cart
KARATE AUSTRALIA SEISHIKAN GOJU-RYU
These kids have trained and have achieved so much in the last few years and are great ambassadors for our community.
3 karate students from Seishikan Karate attended the School and University karate championship and the Australian Open karate championship in Sydney in April and came home with 6 medals.
There were 1300 entries in each of the tournaments from Australia, new Zealand, Botswana, peru, Fiji and new Caledonia.
Lauren Frost was up first winning a bronze medal in the kata event, it was a tough competition but had her karate instructor by her side coaching her.
Alba Kraatz who is a world judge A in kata coached at the School and University championships, but was informed that this would be the last time she would be allowed to do so because of her commitment to refereeing.
" At least I got to coach for a short time before resuming my official duties. I guess my role as their karate instructor is to prepare them well enough prior to any tournaments. I have the confidence in them and they never let me down win or lose."
Lauren had some great fights, mixing it up against bigger opponents winning a bronze medal.
At the Australian Open she fought much better and dominated the fights until the final bout for gold. She did her best but lost in a close fight to win a silver medal.
Brother Bradley fought extremely well to win gold in the junior male division and tried his best in the Kata against much more experience competitors.
In the Australian Open Bradley fought well but had trouble dominating the final bout to win the silver medal.
Leigh Redford won a bronze medal in the fighting, in the dying seconds of the bout he pulled out a reverse roundhouse kick to the head of his opponent to earn him a bronze medal.
It was a great effort from all, they have trained very hard and were rewarded for their efforts. Their next competition will be the Kobe Osaka in Melbourne,
Wade VonStanke also did me proud, he successfully upgraded to National Kata A and now hold a National Kumite A and Kata A license.
Seishikan Karate has dominated in competition in south Australia since 1980 and produced international and world karate champions.
Karate is for everyone it develops a positive attitude built on a strong foundation of self discipline and respect.
Come train with the most successful karate school at St. Pauls Church Hall on Penola Road, Mount. Gambier.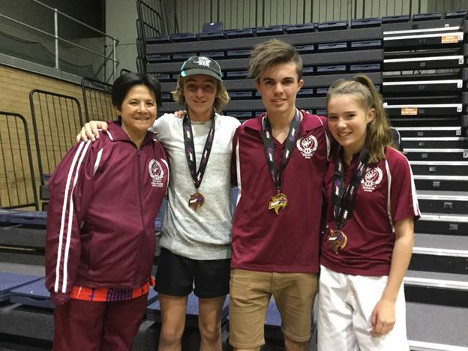 Coach Alba Kraatz, Leigh Redford, Bradley Frost and Lauren Frost.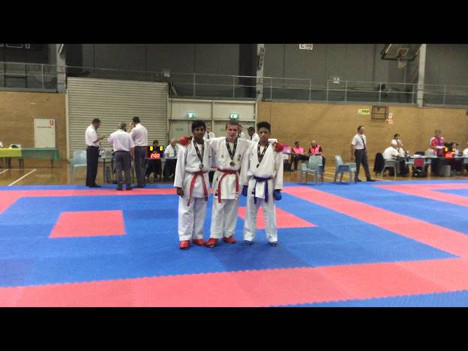 Bradley Frost gold medallist
Lauren Frost silver medallist

Categories: None
/